….with school starting, a gazillion hurricanes, and deadlines galore, this fall season has been no joke! I've been swamped, but I've been enjoying every second of it! I guess it really does pay to love what you do for a living, it makes life so much easier when you have to wake up at five in the morning. Here's a quick recap of everything that has happened in the past few months: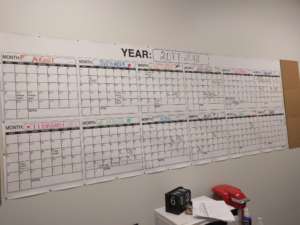 The first day of school came and went, and we are now in full swing at the MAC dance department in the Wynwood campus. Classes are flowing smoothly, dancers have returned to their regular routine and are quickly gaining speed, and we are preparing for all of the events coming up. The first school performance will be the Student Choreography Showcase, so dancers are busy taking advantage of all the free time they can get to work on concepts and music selections before they begin the creation process for their original works. Other than that, everyone has remained on task, and is working hard to continue crushing personal and class goals.
Hurricane Irma: UGH. That is all. We all know the devastation and havoc this storm caused for many families in Florida, and rather than wasting my time remembering such a terrible event, I want to emphasize the importance of helping as best as we can. Several storms have severely impacted all of us this season, in one way or another. Many people, friends, and family, need us now more than ever. There are thousands and thousands of people that need our help, check out all the organizations you can give to that will help those who need it most during these trying times by clicking here: Best Charities to Help Hurricane Victims.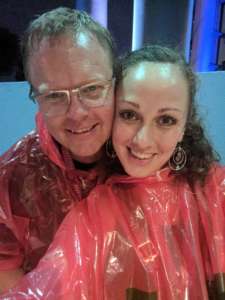 BIRTHDAY WEEKEND:   Despite the storms and their disastrous impact, I was still able to enjoy a quick birthday getaway weekend to visit Universal Studios and Disney World with my hubby. We had a great weekend enjoying ourselves despite the torrential downpours, which resulted in being blessings in disguise since the lines became shorter as the rain fell harder. Horror Nights was horrific, and Food and Wine at Epcot was delicious. We packed up and drove home on the third day so I could unpack and repack for my next trip, which was the very following day…
UMATILLA:   At first, I was told this was a week-long camping trip to provide bonding opportunities with the high school students at MAC, and to enable the ability to cross collaborate during this time. The kids just wanted a week off from school, and I was excited yet hesitant since I wasn't really sure what I was getting into. All I can say is I'm glad I jumped on the bus and went for it with the kids. This camping trip proved to be more than just a week away from school. It became an opportunity for me to really bond with the dancers and learn a little more about them, and what makes them tick. It was also my very first "camping" experience. I say this loosely, as I'm not too sure sleeping in a comfy, air-conditioned room with a television and a spacious bathroom can be considered true camping.The dancers worked extremely hard over the three days we were at camp. The first two days were ten-hour dance days, as they took four two-hour dance classes in all different styles, followed by the final two hours of the evening working on their student choreography projects. The third day was an eye opener as I witnessed the dancers' professionalism during the underwater photo shoot they participated in, where they collaborated with the photography students to create amazing underwater shots conveying emotions. I admired their respect for their art form and that of the students they collaborated with, and can't wait to see the final shots soon. Being away for a week reminded me just how much I love to create, and although the days were busy and long, I still found moments to relax and reinvigorate myself listening to music, letting nature inspire me, and allowing my mind to be open to new concepts and ideas from the other students. I can't wait to go back next year, but I hope this time more dancers will attend so they can all enjoy this wonderful experience.
I've continued private coaching after school with a few dancers, and I'm really enjoying taking my time and really getting to work with them one-on-one, truly focusing on all the little details that make dancers the lovely artists they are. Our sensibility to our bodies and emotions are what separate us and make us so remarkable in the arts. I am hoping to have more opportunities to create work on dancers, especially after such a refreshing trip where I brainstormed many ideas. That being said, I'm definitely ready to start choreographing a few pieces at MAC, and working on some deeper concepts this year. I'm looking forward to the dancers' feedback during the choreography sessions; I believe the dancers participating in the creative process are an integral part in making sure any choreographer's work is whole.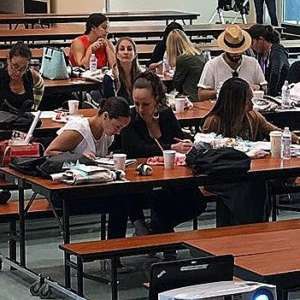 Up next, I'll be getting ready to attend the FDEO (Florida Dance Education Organization) Conference, which will be taking place at Miami City Ballet. As a former professional dancer and now educator, I will always remember and understand the importance of staying relevant in your art form and training, which is why this conference is so amazing: it's the opportunity to do just that, from the comfort of our own backyard in Miami Beach. Teachers: never stop learning and growing, because your students grow every time you do! I just reviewed the schedule, and the classes and lectures are all so good I'm having a difficult time deciding what I want to do! What a great problem to have, too much good stuff to choose from! I will try to post after the conference and let you all know how it went.
Although I have limited time available, I'm really feeling inspired and in the mood to create. If you're interested in working together at all, let me know! Shoot me a quick email or text, or just use the contact page on my website to get in touch with me. I'd love to meet and/or reconnect with you to make something special, or work together to improve your craft. I'm also working on uploading some of my work on my YouTube channel; I will let you guys know as soon as I can get it done so you can head over and check it out. Hope you all have a great week, and see you all soon!
– DF
P.S. enjoy the photo gallery below!